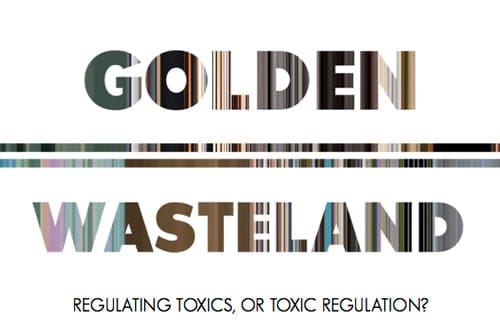 SANTA MONICA, CA—Senator Joel Anderson (R-San Diego) became the fourth lawmaker to respond to Consumer Watchdog's report, Golden Wasteland, calling the Department of Toxic Substances Control (DTSC) onto the carpet for falling down on the job and protecting hazardous waste polluters over people. He is now calling for DTSC Director Debbie Raphael to investigate the deaths of two female constituents in Wildomar, each of whom died suddenly after gardening in their backyards.
"We are pleased to see California lawmakers responding to our report on mismanagement and the lack of enforcement at the DTSC," said consumer advocate Liza Tucker, the report's author. "But we hope to also see some action from the executive branch. We hope Governor Brown reads the report and acts promptly to support the replacement of key management staff at the DTSC so it becomes a regulator of toxics instead of a toxic regulator."
The Wildomar case is one of eight cases documented in the report where the DTSC has not acted to protect public health. Click here for Golden Wasteland report: http://www.ConsumerWatchdog.org/golden-wasteland-report
Residents of a development in Wildomar, called Autumnwood, believe that the complex of 61 homes was built on toxic soil. The DTSC has left it up to state air regulators to determine what is making people sick. "I ask that you take necessary steps to rule out toxic chemicals as the cause of the illnesses and deaths," wrote Senator Anderson. "I also request a written response detailing your plan, with timeliness, to address these issues."
Last week, Senators Kevin de Leon (D-Los Angeles) and Ricardo Lara (D-Long Beach) Lara issued a joint letter to DTSC Head Debbie Raphael calling for an investigation of the department by the Senate Office of Oversight and Outcomes. The Golden Wasteland report calls for a financial audit of the department's operations because, on the one hand, the department is running a deficit, on the other hand it has $26 million on hand in a reserve fund attached to its hazardous waste control account that is supposed to be used for enforcement purposes. DeLeon and Lara want to investigate why the DTSC isn't protecting vulnerable communities from poisoned air, water and soil.
Senate Majority Leader Ellen Corbett, (D-San Leandro), wrote Director Raphael asking for an immediate meeting to review DTSC's enforcement practices. She wrote that she would also be requesting an investigation into DTSC's operations and whether the department is fulfilling its mission to protect the public.
For media coverage of the report click here: http://www.consumerwatchdog.org/about/in-the-news
– 30 –