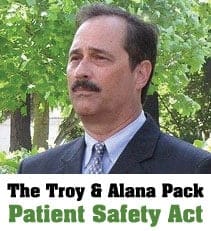 Sacramento, CA – Bob Pack, whose two young children were killed by a drugged driver, today called on California lawmakers to repudiate shocking remarks that physician impairment due to substance abuse "Doesn't Matter" by signing the petition for his ballot measure to improve patient safety.
The Troy and Alana Pack Patient Safety Act was drafted in response to Pack's personal tragedy in order to save lives, deter substance abuse by doctors and patients, and hold physicians and hospitals accountable when negligence results.
The remarks were made by Jeffrey Poage, M.D., on the home page of the California Society of Anesthesiologists web site. In his letter to state legislators Pack states, "Dr. Poage's disregard for the safety of patients, and the attitude in the medical community it exposes, is precisely why new laws are needed to target physician drug abuse and the lack of accountability for its consequences…That's why I am asking you to sign this ballot measure to protest Dr. Poage's remarks."
Poage's comments as an anesthesiologist are especially shocking, wrote Pack, given recent stories of patient harm involving the impairment of physicians administering anesthesia in California.
"Yessennia Candelaria, a Rocklin pediatrician with a reported drug problem, was arrested earlier this year and accused, among other charges, of sharing an IV with a patient she was administering anesthesia to during surgery. According to a medical assistant assisting in the procedure, Dr. Candelaria 'lost consciousness in the operating room.' Candelaria and her husband, Dr. Efrain Gonzales, were arrested by the DEA only after a years-long investigation into the botched care of at least 15 patients.
"The California Medical Board estimated that almost one-in-five doctors (18%) suffer from drug and alcohol abuse. The nation's top medical safety experts have called for random testing to curb substance abuse by doctors and ensure patient safety. Yet California has no law to require drug or alcohol testing of physicians and the medical industry complex continues to fight reforms, with people like Jeffrey Poage leading the way.
"Dr. Poage's insensitive remarks are particularly outrageous considering the results of a recent study published in the Journal of Patient Safety, which found that medical negligence is the third leading cause of death in the country behind only heart disease and cancer. A small minority of doctors, some of whom are impaired, commit the vast majority of medical negligence. Unfortunately, however, Dr. Poage's attitude is more representative of the medical establishment's indifference than any of us would want to believe. That's why doctors don't police themselves."
Pack's children, 10 year old Troy and 7 year old Alana, died when they were struck by an addict who was recklessly prescribed thousands of pills by the state's largest health care system, Kaiser Permanente. The driver fell asleep at the wheel and swerved off a road, killing not only Troy and Alana, but the unborn twins his wife was carrying as well. The doctors and hospitals were never held accountable, and Kaiser has stonewalled reforms for greater patient safety for the last decade.
The Troy and Alana Pack Patient Safety Act will:
Require random drug and alcohol testing of doctors – just like pilots and bus drivers. When physicians' attitude is that doctors using drugs "doesn't matter," Californians must take it into their own hands to protect themselves;
Crack down on prescription drug abuse and overprescribing by requiring doctors to check a statewide database before prescribing class II and III narcotics;
Hold doctors accountable for negligence by adjusting the current limit on medical negligence damages to account for 38 years of inflation while maintaining the existing cap on attorneys' fees.
"Nationally, as many as 440,000 people die each year from preventable medical negligence, including errors caused by doctors practicing under the influence. That's like a 747 crashing every 10 hours. Yet unlike airline crashes, little has been done to stem the tidal wave of injuries and deaths. In California, the cap on damages in medical negligence cases has not been adjusted for inflation in 38 years and prevents patients from holding negligent doctors responsible in court.
"When physicians are not held accountable for their actions patients are put at risk. With no legal deterrence, doctors know that there are no consequences for medical negligence or substance abuse, which gives them no incentive to change their dangerous behavior. That is why detection and prevention of substance abuse by patients and physicians is so critical."
Download the letter here: http://www.consumerwatchdog.org/resources/packletter_speakerperez.pdf
###
For more information about the Troy and Alana Pack Patient Safety Act, visit http://www.PackAct.org