Capitol Debate On Utilities' Fire Liability Sparks A Lobbying Frenzy
By Matier & Ross, SAN FRANCISCO CHRONICLE
August 15, 2018
https://www.sfchronicle.com/bayarea/matier-ross/article/Capitol-debate-on-utilities-fire-liability-13156339.php
With the clock ticking down on the legislative session, some of the state's biggest special interests are spending millions of dollars to influence the debate over how much wildfire liability PG&E and other investor-owned utilities should face, given the "new normal" of hotter, dryer summers.
At issue is whether utilities should continue to be held liable for damages caused by wildfires linked to their power lines — even if the companies did nothing wrong.
On one side, there is Pacific Gas and Electric, their employees and Gov. Jerry Brown, who is fearful that keeping the current rules might undermine the state's power grid, "leaving our energy sector in a state of weakness." Estimates have put PG&E's potential liability from last year's wildfires as high as $15 billion.
On the other side are fire victims, the state's trial lawyers, insurance companies, and a number of cities and counties that want to hold the utilities responsible for most of the financial liability.
"Everyone is focused on making their cases in the loudest possible way," said state Sen. Jerry Hill of San Mateo, a longtime critic of PG&E's safety practices and record.
In the public arena, BRITE (Building Resilient Infrastructure for Tomorrow's Economy), a PG&E-backed collection of labor and green energy suppliers, is spending close to $2 million on a targeted TV ad campaign aimed mostly at convincing Sacramento decisionmakers that they need to ease up on utility liability.
"Climate change isn't something that you read about in the headlines," San Francisco Firefighters Union President Tom O'Connor says in one ad. "It's a real-life threat with real live consequences."
Opponents of changing the liability laws have countered with vocal demonstrations outside the state Capitol. Both sides are working behind the scenes as well.
Politico reports that PG&E, Southern California Edison and San Diego Gas & Electric have spent a combined $6 million on lobbying the Legislature so far this session.
PG&E also paid $400,000 to the San Francisco political consulting group SCN Strategies, whose clients include Brown and Lt. Gov. Gavin Newsom.
SCN Partner Dan Newman declined to discuss the firm's role in the liability debate other than to say it was "part of the team helping communities harmed by all the fires."
Another San Francisco firm, Storefront Political Media, headed by Eric Jaye — who most recently ran former L.A. Mayor Antonio Villaraigosa's bid for governor — was paid $108,000 between Jan. 1 and June 30 to help shape the BRITE ads. Jaye is a longtime consultant to PG&E.
Lobbyist and Santa Rosa Press Democrat investor Darius Anderson's Platinum Partners — a longtime consultant to PG&E — has been paid $30,000 since the first of the year.
Wildfires liability
Just last week, the Press Democrat ran an editorial supporting the governor's call to "loosen the liability standard, formally known as inverse condemnation," to allow a "more equitable apportionment of costs between utilities and insurers." In other words, the liability shouldn't fall solely on the utilities unless they've been found negligent or guilty of a criminal violation.
Publisher Steve Falk says Anderson has had no involvement in the paper's editorials.
"We have made that line absolutely clear in the sand — and not a single investor (in the Press Democrat) or Darius has stepped over that line once," Falk said.
On the other side are advocates of keeping the utilities financially responsible. Records on file with the secretary of state show a group of trial lawyers that represents fire victims put together $564,000 — including $50,000 from Burlingame trial lawyers Joe Cotchett and Frank Pitre — to finance a campaign called Up From Ashes.
Patrick McCallum, the Sacramento lobbyist heading the group whose own house burned down, said about $120,000 of that money was going toward lobbying lawmakers, with the rest going into print, online and radio advertising aimed at "holding PG&E accountable " for its alleged negligence in the recent fires.
Some of the behind-the-scenes relationships among the players have set off their own sparks.
For example, following last October's North Bay fires, Anderson helped put together a public-private recovery group called Rebuild North Bay whose board included both a PG&E senior vice president and Sonoma State University President Judy Sakaki — wife of trial-lawyer lobbyist McCallum.
But Sakaki was eventually asked by Rebuild North Bay staff to step down, obstensibly because of her already heavy workload, though some Sakaki loyalists believe it was because her husband was taking on PG&E in Sacramento. In any event, Sakaki was replaced by Sonoma State's chief financial officer.
Some of the relationships have little to do directly with utility liability.
For example, San Francisco firefighters President O'Connor said he agreed to do the BRITE commercial in part to support the International Brotherhood of Electrical Workers and in part because PG&E has contributed $50,000 a year to the union's Christmas toy drive.
"They have been very good to the kids over the years," O'Connor said.
And some of the relationships are classic example of good old-fashioned Sacramento politics.
Take Sen. Bill Dodd, D-Santa Rosa, whose district was hit heavily by the North Bay wildfires.
Dodd has been presiding as co-chair over the Senate-Assembly conference committee debating a series of wildfire-related bills — including one he authored that would require the electric utilities to upgrade their equipment in fire-prone areas, but also allow them to pass on the costs to ratepayers.
With the hearing room packed last Tuesday, Dodd vowed to keep the proceedings moving, limiting the speakers to five minutes each and insisting, "We're going to be done here at 5."
It turns out he had previously scheduled a 5:30 p.m. re-election fundraiser at Downtown & Vine — a wine bar across the street from the Capitol, where the "suggested contribution" was $1,500 to $4,400.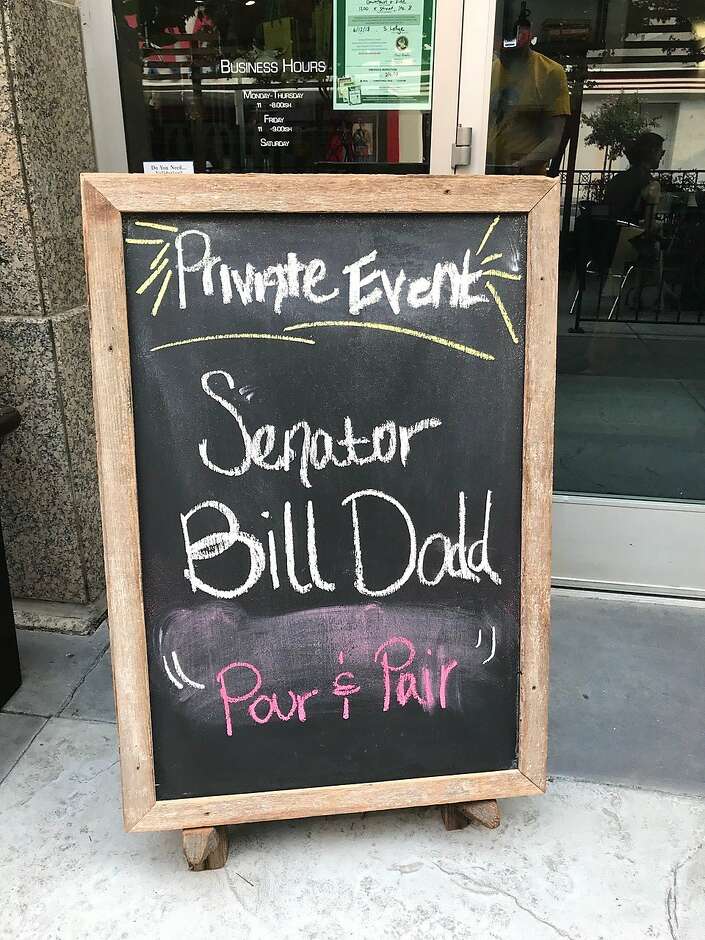 A chalkboard advertises a re-election fundraiser for state Sen. Bill Dodd, D-Santa Rosa, at wine bar across the street from the state Capitol building in Sacramento. The event took place while Dodd was holding hearings on legislation to consider utility liability for the state's wildfires. The fundraiser was attended by lobbyists and others with interest on both sides of the issue.
Photo: Matier & Ross / Courtesy Consumer Watchdog
The party was attended by some of the very same lobbyists on both sides of the fight, who just minutes before had been at the hearing.
We're told that Dodd had calendared the gathering months ago and that he hasn't accepted any campaign contributions from PG&E since the fires, nor did any utilities contribute to that particular event.
"The senator has been committed to raising the accountability standards for PG&E all year long, and that continues to be his focus," Dodd spokesman Paul Payne said.
San Francisco Chronicle columnists Phillip Matier and Andrew Ross appear Sundays, Mondays and Wednesdays. Matier can be seen on the KPIX TV morning and evening news. He can also be heard on KCBS radio Monday through Friday at 7:50 a.m. and 5:50 p.m. Got a tip? Call 415-777-8815, or email matierandross@ sfchronicle.com. Twitter: @matierandross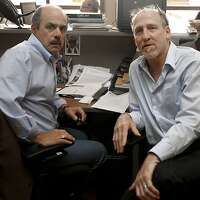 Follow Matier on:
https://www.facebook.com/SFChronicle/matierandross
Whether writing about politics or personalities, Phil Matier and Andy Ross have informed and entertained readers for more than two decades about the always fascinating Bay Area and beyond. Their blend of scoops, insights and investigative reporting can be found every Sunday, Monday and Wednesday in the San Francisco Chronicle.
Phil is also a regular on KPIX TV and KCBS radio.