Bernie Sanders came to Los Angeles's Pershing Square today to tell Californians not to be deceived by the $130 million drug companies have spent against Prop 61's controls on California drug prices.
"Drug companies are spending over $130 million to defeat this initiative and to make certain the people of California and the people of this country continue to pay outrageously high prices for prescription drugs," Bernie Sanders told the crowd of about 1,000 Angelenos in downtown LA this am.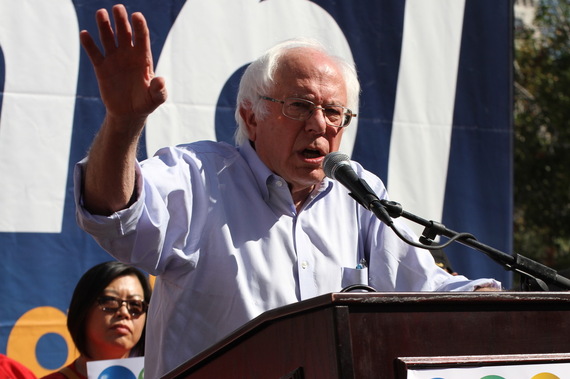 "They understand that a victory here in California will not only lower prescription drug prices here but will impact every state in the country…. The simple truth is that the American people are sick and tired of paying the highest price in the world for prescription drugs."
After the deluge of drug company advertising against Prop 61 on every screen Californians own, the latest field poll shows Prop 61 in a dead heat — 47 yes to 47 no. Bernie's appearance in LA and Sacramento today could create the extra visibility needed for Prop 61's effort to rein in California drug prices. It does this by preventing the state from paying any more than the lowest price paid by the federal government, the Department of Veterans Affairs.
Drug companies have been telling lots of lulus — like Veterans will pay more if Prop 61 passes, which is not true because veterans' co-pays and VA prices are locked in under federal law. The biggest lie the drug companies have managed is to conceal their own funding of the opposition to Prop 61.
Surveys by Prop 61 proponents show nearly half of voters surveyed did not know drug companies were paying for the opposition to Prop 61 despite the fact it is the largest expenditure against a proposition in California history.
Bernie's presence will remind Californians who is footing the bill for Prop 61 and what the stakes in the election are.
"The American people are tired of the drug companies and the fact that one in five people who go to a doctor and get a prescription cannot afford to fill it," Sanders told the LA crowd. "We are tired of seeing people die because they cannot afford the outrageous prices the drug companies are charging us."
"Last year the five major drug companies made $50 billion in profit," Sanders said. "The fight you are waging here in California is really extraordinary because you are taking on the entire establishment….Tomorrow the drug companies are going to learn a lesson in that millions of Californians want change, they want lower drug prices."
Sanders explained why drug companies are spending so much against Prop 61. "What they are scared to death of is that for the first time a state is going to go on record and say you cannot raise your prices to any level you want. Prop 61 is a moral issue. It is an issue of whether people in our country should die or get sicker than they should be because they cannot afford a pill that costs pennies to manufacture."
"When the drug companies are spending $130 million to try to buy this election it also tells you about a corrupt campaign finance system," said Sanders.
"In a democracy, the drug companies and the billionaire class should not be able to buy elections. And tomorrow when you pass Prop 61, you are now only going to lower drug prices in this country, you are also striking a blow for real campaign finance reform… and for making sure billionaires will not buy elections all over this country.
"What you are doing here has true national significance," Sanders said. "This could be the shot heard round the world in taking on the big money interests in health care."
Stay tuned America. It's the People vs The Drug Companies. And the verdict will be known when the polls close.
_____________________________________________________
Jamie Court is a director of Consumer Watchdog Campaign, which is part of the Yes On Prop 61 campaign.