Santa Monica, CA – Oil companies exported more gasoline from the West Coast to foreign nations in the month of December 2014 than ever in the nation's history, according to Energy Information Administration data analyzed by Consumer Watchdog.
The exports came just one month before California experienced a "supply crisis" that has raised gasoline prices in California over a dollar above the national average – the largest difference in history.
Californians paid $3.6 billion more for their gasoline than the average US motorist based on the added pump price from February through May and consumption, Consumer Watchdog said.
Gasoline prices in California currently stand at $3.59 per gallon, 84 cents above the national average. "Oil companies created a shortage by selling abroad, and then shutting down refineries, and have made billions at the expense of Californians who are paying a huge premium due to the state's low inventories," Consumer Watchdog's advocate Cody Rosenfield said.
In the month of December, West Coast refiners exported 2.7 million barrels, or 113 million gallons of gasoline. The exports also constituted the most exports in a quarter, ever. During the fourth quarter of 2014 oil companies exported an amount that represents almost a third of California's current gasoline supply. Consumer Watchdog will provide the new evidence to state Senate investigators and regulators.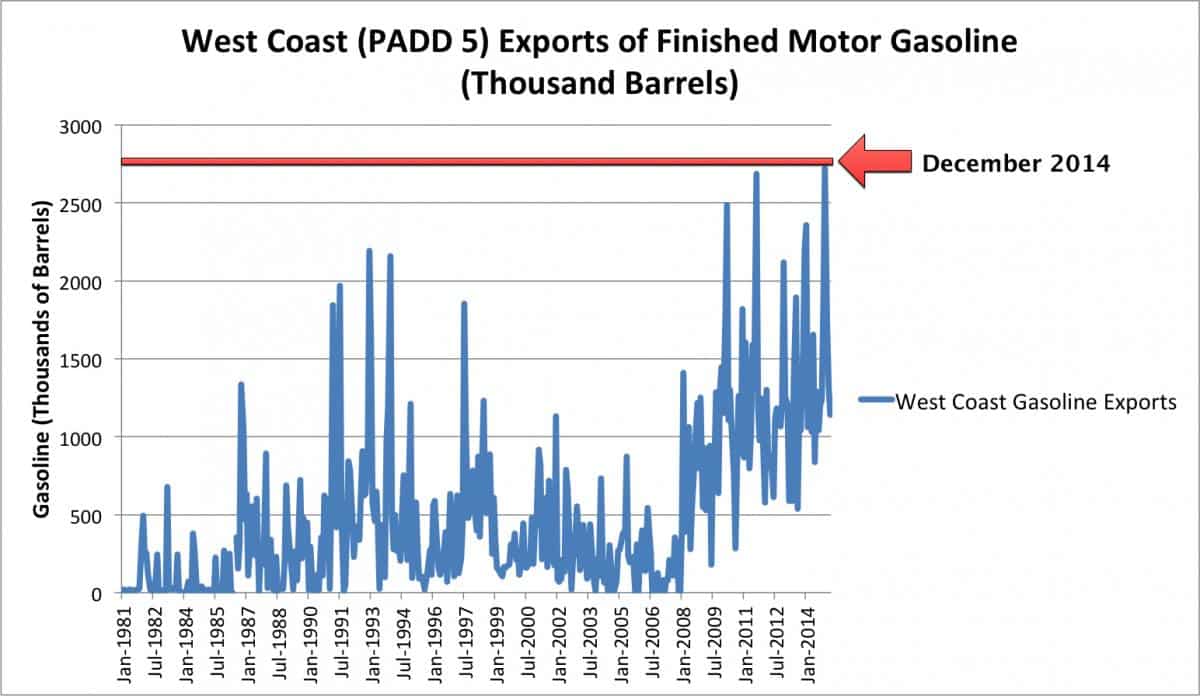 The exports set the stage for the price spikes that hobbled California. After record exports, refineries began shutting down at an unprecedented rate. Gas prices
Oil companies continue to export significant amounts of gasoline from the West Coast. In the first quarter of 2015, despite record price spikes, refiners exported another 4.1 million barrels (172 million gallons) of gasoline, one of the top ten export quarters in history.
Consumer Watchdog said exporting product is one of a number of ways that California and other Western state refiners have rigged the market for huge profits. A series of suspicious refinery closures and slowdowns preceded the current price spike. According to industry insiders, some of the maintenance schedules were inexplicably moved forward, despite a lack of local supply.
Oil refiners reported sky high West Coast profits in the first quarter of 2015 due to the added premium Californians paid on their gasoline. Valero, one of the state's largest refiners, reaped $82 million in West Coast profits, over three times more than their five year-year average of $25 million per quarter. (Consumer Watchdog's report, Refining Profits: How Californians get Fleeced At the Pump analyzed the profits and can be read at: http://consumerwatchdog.org/resources/refiningprofits.pdf )
The EIA collects petroleum data on a Petroleum Administration for Defense Districts (PADD) basis. The West Coast, known as PADD 5, is made up of Washington, Oregon, Nevada, California, Arizona & Alaska. Despite being made up of six states, the PADD represents mostly California data. California refineries represent 63% of PADD 5's production capacity. California is also the third largest gasoline market in the world behind only the United States and China.
California uses a different, more environmentally friendly blend of gasoline, known as CARB, than the rest of the nation. Many California refiners produce large amounts of non-California gasoline for export, reducing available state refining capacity and supply.
– 30 –