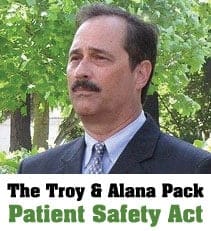 Danville, CA – Bob Pack today wrote Dr. Paul Phinney, head of the California Medical Association, with hard words over Phinney's refusal to acknowledge his family's suffering and that of other medical negligence victims in his public response to Pack's ballot measure, "The Troy and Alana Pack Patient Safety Act."
Pack wrote that public statements about the initiative by Phinney and the medical association he heads are insensitive and derogatory and falsely claim the initiative is about enriching lawyers, when the death of Pack's children inspired the modest patient safety reforms in the measure. Phinney and California Medical Association spokespeople have called the measure "self-serving," "window dressing," and a "publicity stunt." Pack wrote Phinney in May calling for a debate in the Capitol but received no response.
The letter can be read here: http://consumerwatchdog.org/sites/default/files/resources/ltrphinney.pdf
"I can assure you that addressing the lack of patient safety protections that cost my children their lives, and then prevented us from obtaining justice, is neither a stunt nor a money-making ploy for my family," Pack wrote to Phinney. "I was forced to file this initiative to prevent another family from experiencing the tragedy we went through because the California Medical Association and its insurance industry allies have blocked even modest patient safety reforms in the Legislature at every pass. This includes your opposition to the provision in SB 809 this year that required all doctors who prescribe narcotics to check the electronic CURES database before prescribing them. How can you claim to 'Do No Harm' if you block such simple measures?"
Pack lost his two children, Troy and Alana, and unborn twins when a drug-addicted, doctor-shopping driver killed them after being prescribed thousands of pills by Kaiser doctors that did not check her prescription history or determine that she had symptoms. He developed the electronic CURES database to keep track of patients' prescription history. However he was unable to hold the Kaiser doctors accountable in court because a law passed 38 years ago by the legislature capped the value of each of the Pack children's lives at $250,000, and has never been adjusted for inflation. The Troy and Alana Pack Patient Safety Act would update the cap passed in 1975 for inflation, require physicians to check the CURES database before prescribing narcotics, mandate reporting of medical errors, and require physician drug testing.
"Often the statements you espouse in defense of the status quo are patently false, but you have been unwilling to defend them publicly," Pack wrote to Phinney. "I challenged you on May 21st to debate these issues under the Capitol dome in a letter that was never answered. I reiterate that challenge today on behalf of all patients who have been harmed by medical negligence but unable to get justice due to the outdated laws you and the California Medical Association protect at all costs.
"A full and honest debate after 38 years is more than overdue, which is why I have filed the 'Troy and Alana Patient Safety Act' so that voters may make the choice the legislature has been unwilling to make. You owe the public honest answers so I call upon you to respond to this invitation at a date and setting of your choosing no later than one week from today.
"Should you refuse again, or ignore this invitation, we will ensure your patients know about your indefensible opposition to mandatory drug testing for physicians; to mandatory reporting of errors and use of the electronic prescription drug database; and to indexing for inflation the 38 year old limits on injured victims.
"Ignoring innocent patients who suffer at the hands of doctors who harm them discredits the medical establishment and your profession. It's time to stop, acknowledge the problems that exist and debate them. I await your reply."
-30-