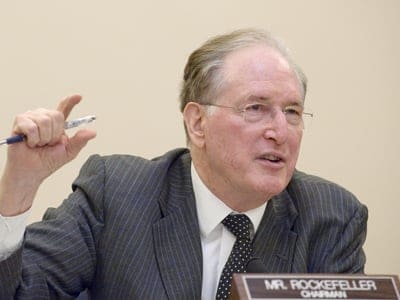 WASHINGTON, DC – Consumer Watchdog today praised Sen. Jay Rockefeller (D-W VA) for introducing a Do-Not-Track bill, which would charge the Federal Trade Commission with establishing standards by which consumers could tell online companies, including mobile applications, that they do not want their information collected.
Under the bill, similar to legislation Rockefeller introduced in 2011, the FTC would be charged with ensuring that companies respect a consumer's Do-Not-Track choice.
"It's now clear that Rockefeller's action is necessary to ensure consumers get the protection they deserve and expect," said John M. Simpson, director of Consumer Watchdog's Privacy Project. "Self-regulatory efforts to develop a Do-Not-Track standard have stalled. Rockefeller's bill may spark action in such forums as the World Wide Web Consortium (W3C), but at the end of the day, we'll need legislation to get this done. Industry has had no real incentive to agree to a meaningful standard."
Last March the FTC issued its report "Protecting Consumer Privacy in an Era of Rapid Change," which called for the implementation of a Do-Not-Track mechanism. Instead of seeking legislation to implement Do Not Track, the FTC relied on voluntary efforts such as that by the W3C, an Internet standards setting organization.
"The attitude had been, let's give self-regulation a chance," said Simpson. "We've spent 18 months and it's not working. Now is the time for legislative action and we welcome Sen. Rockefeller's commitment to getting Do Not Track done."
The W3C's Tracking Protection Working Group has been attempting to draft two standards. One would specify how technically a Do-Not-Track message would be sent, while the second would cover the obligations of a website that receives the Do-Not-Track message. Consumer Watchdog's Simpson has been participating in the negotiations as an "invited expert."
Simpson also called for legislation to implement the Consumer Privacy Bill of Rights announced last spring by the White House. The Department of Commerce's National Telecommunications and Information Administration is running another "multi-stakeholder" process to develop a code to implement transparency about data use by mobile apps.
"The pace there is glacial and they are only talking about a code that would cover just one of the points in the Consumer Privacy Bill of Rights," said Simpson. "We need to see the big stick of legislation. It's the only way to drive anything forward."
In another privacy-friendly development, Mozilla, the developer of the Firefox web browser, has announced it will block 3rd party cookies by default in Version 22 of its browser, expected to be released this summer. Cookies are little bits of computer code that allow a user to be tracked. Apple's Safari browser already blocks 3rd party cookies by default. Google paid a $22.5 million penalty to the FTC for hacking past the privacy settings on Safari, which is used on iPhones and iPads and other Apple devices.