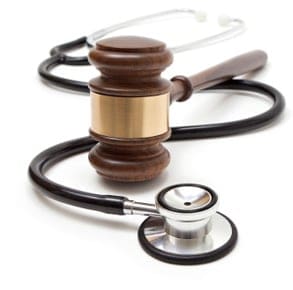 Santa Monica, CA – Consumer Watchdog joined 80 public interest groups in opposition to a bill the U.S. House will vote on Wednesday that would strip away the rights of patients harmed by medical negligence, elder abuse, dangerous prescription drugs and defective medical devices. President Trump proposed similar limits to patient rights in his budget released in May.
"Even if H.R. 1215 applied only to doctors and hospitals, recent studies clearly establish that its provisions would lead to more deaths and injuries, and increased health care costs due to a 'broad relaxation of care.' Add to this nursing home and pharmaceutical industry liability limitations, significantly weakening incentives for these industries to act safely, and untold numbers of additional death, injuries and costs are inevitable, and unacceptable," the groups wrote in a letter to House Speaker Paul Ryan and Minority Leader Nancy Pelosi. "Congress should focus on improving patient safety and reducing deaths and injuries, not insulating negligent providers from accountability, harming patients and saddling taxpayers with the cost, as H.R. 1215 would do."
Read the letter here.
The legislation would place a $250,000 cap on non-economic damages in cases of medical negligence, unsafe drugs and nursing home abuse. Proponents of the law claim it will reduce health care costs by lowering medical malpractice insurance premiums and stopping so-called defensive medicine.
California's experience with a similar law, the Medical Injury Compensation Reform Act, or MICRA, enacted in 1975, does not bear out these claims, said Consumer Watchdog. California's limits on injured patients' legal rights have not lowered health care costs in the last 40 years, but have devastated patients' ability to hold negligent doctors and hospitals accountable.
During the 13 years after a damage cap was enacted in California, doctors' medical malpractice insurance premiums shot up by 450%. Only when California voters approved a law regulating insurance rates, requiring insurers to open their books and justify rate increases, did malpractice insurance premiums drop 20%, and then stabilize.
Read the report, How Insurance Reform Lowered Doctor's Medical Malpractice Rates In California: And How Malpractice Caps Failed: http://www.consumerwatchdog.org/resources/1008.pdf
"Taking away the rights of injured patients doesn't help anyone but negligent doctors, greedy pharmaceutical companies and the companies that insure them," said Carmen Balber, executive director of Consumer Watchdog. "In California's four decades of experience, stripping away patient rights means doctors who harm patients are never held accountable."
Steven Olsen was just 2 years old when he fell in the woods and punctured his sinus. In the emergency room, the doctor pumped Steven up with steroids and sent him home, refusing the , CAT scan his parents repeatedly asked for. Steven returned to the hospital hours later comatose. At trial, medical experts testified that had he received the $800 CAT scan, which would have detected a growing brain mass, Steven would have his sight and be healthy today. The jury awarded $7.1 million in "non-economic" damages for Steven's avoidable life of darkness and suffering. The jury, however, was not told of the cap on non-economic damages in California. The judge was forced to reduce the amount to $250,000 when the jury left the room. This one-size-fits-all damages cap, unchanged in California since 1975, is Republicans' recommendation for America with H.R. 1215.
-30-