Los Angeles, CA — A review of state conflict of interest forms shows that eight regulators managing the state's oil and gas well approval and inspection process have hundreds of thousands of dollars invested in the oil companies they regulate. One of the regulators is among the top three in command at the State's Division of Oil, Gas, and Geothermal Resources (DOGGR).
David Gutierrez, Deputy Director for Programs at DOGGR, disclosed stock worth up to $100,000 in Exxon Mobil, a parent of AERA Energy, which has received 448 drilling permits this year, the second most after Chevron. Gutierrez is the highest-ranking civil service employee under the State Oil and Gas Supervisor, a political appointee who is in charge of supervising oil and gas engineers, including those in charge of pipelines and facilities, and monitoring and compliance.
Consumer Watchdog and the FracTracker Alliance released data showing a major increase in permits for new oil and gas wells this year under Governor Newsom. From January 1 to June 3, DOGGR approved 2,365 new oil and gas well permits and 191 fracking permits. The data shows that this year regulators have considerably increased the number of permits granted for drilling new wells (by 35.3%), well reworks (by 28.3%), and hydraulic fracturing (by 103.2%) as compared to the permitting rate during the final year of the Brown administration in 2018.
Of the 2,365 well permits issued, 1064 or 45% of them benefitted oil companies invested in by DOGGR officials.
"Oil regulators should not be invested in the same oil companies that they regulate," Consumer Watchdog and FracTracker Alliance wrote in a letter to Governor Gavin Newsom, calling for the removal of Gutierrez and other DOGGR officials with conflicts, and an immediate freeze on new well approval. "These conflicts and approvals reveal a biased department where oil well permitting is on automatic pilot. We ask that you immediately remove all the conflicted managers in the agency and begin a top-to-bottom ethics review. During this review, you should freeze all new oil and gas well permits until you can guarantee that decisions are made based on public safety, not pecuniary gain."
Read the letter to Governor Gavin Newsom here:
https://consumerwatchdog.org/sites/default/files/2019-07/DOGGRLettertoNewsomCWDandFracTracker.pdf

Consumer Watchdog will also refer Gutierrez and other DOGGR officials to the Fair Political Practices Commission. Government Code Section 87100 prevents officials from making decisions that affect their personal financial holdings. "Mr. Gutierrez appears to be in violation of this code section as it is almost impossible for him to recuse himself on AERA's regulation given his duties," the groups wrote.
The review of state financial conflict of disclosure forms found that the eight oil and gas regulators below are invested in the oil industry that they regulate: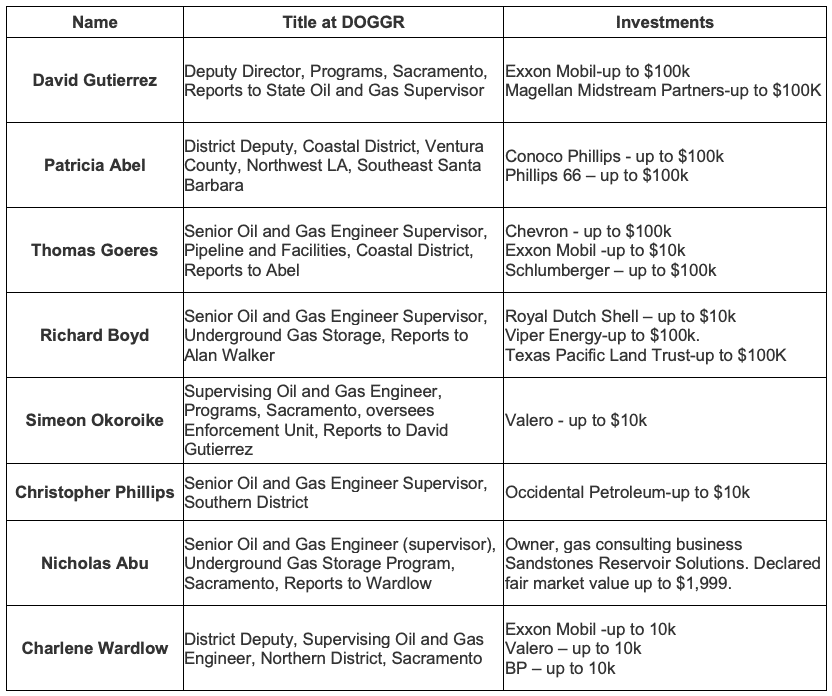 Below is a chart of the oil and gas companies and the permits they received to drill new wells and rework existing wells in 2019. AERA Energy, owned by both Exxon and Shell, received more permits to drill new wells than any other company and received the second most permits to rework existing wells. AERA also received 149 of the 191 approved fracking permits.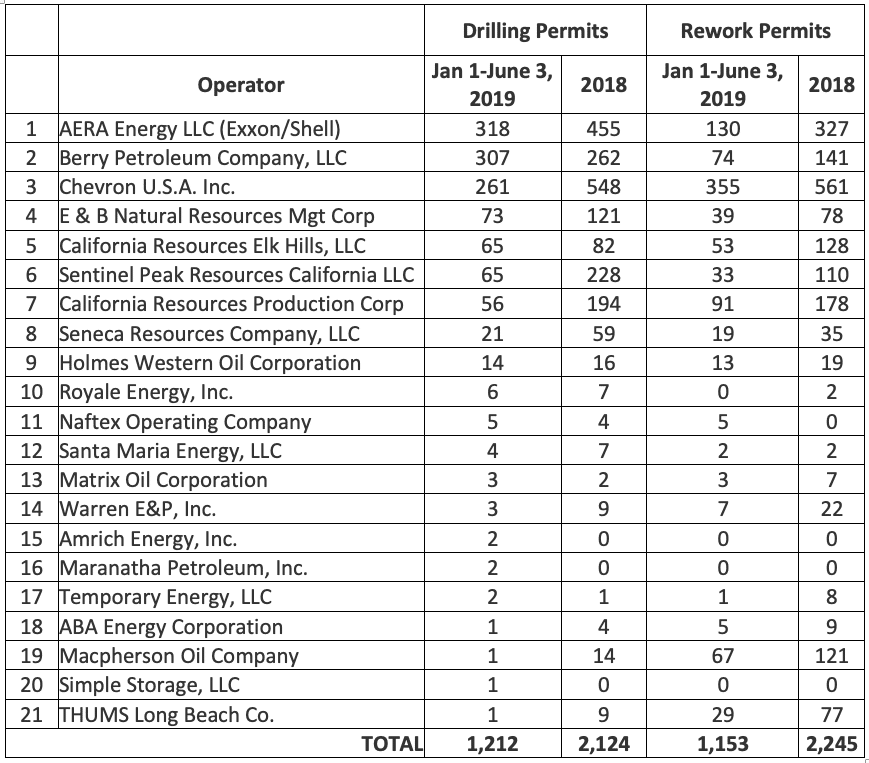 "Given that Governor Newsom has expressed concerns over climate change and its impact on Californians' health and well-being, he would be wise to use this opportunity to lead his administration in reducing extractive oil and gas activities within the state, rather than continuing to grant permits," said Kyle Ferrar, Western Program Coordinator for the FracTracker Alliance.
Under the Political Reform Act, every state and local agency must adopt a unique conflict-of-interest code. The code requires full financial disclosure by individuals who make or participate in making governmental decisions that could affect their personal economic interests. These sources of income must be listed on a 700 Statement of Economic Interest Form filed with the department and shared upon request.
Thomas Goeres, Senior Oil and Gas Engineer Supervisor, has up to $100,000 invested in Chevron and up to $10,000 in Exxon Mobil. His job description includes that "The incumbent will serve as the lead auditor for pipeline management plans, oil and gas facility pipeline, tank and equipment maintenance records, audits, inspections, and tests." Chevron has received 616 new permits from DOGGR this year and both Chevron and Aera have received permits in the district where Goeres works.
DOGGR, which employs 366 people, designates 58 regulators who must file a 700 Form based on their job description. Of those, 43 report no stock investments whatsoever. But it is unknown whether all investments are diligently reported. In 2007-2008, the California State Auditor found an employee at the Department of Conservation, under which DOGGR falls, failed to disclose ownership of stock issued by companies his office regulated, for example.
Here is a link to the 700 forms for the DOGGR officials with oil and gas investments:https://consumerwatchdog.org/sites/default/files/2019-06/DOGGR700sRegulatorInvestments.pdf
From 2001 to 2017 Chevron and AERA contributed $129 million of the $170 million spent by oil and gas interests to fund California political campaigns. The Western States Petroleum Association, the oil and gas trade association of which Chevron and Aera are members, was the top-spending lobbyist in Sacramento in 5 of the last 7 election cycles. WSPA has spent a total $83,107,421 lobbying since 2005. Chevron spent $44,876,606 in that period; Aera spent $5,627,258.56.
Consumer Watchdog and the FracTracker Alliance concluded their letter challenging Governor Newsom to use this revelation to act boldly, "This scandalous ethical breach is an opportunity to advance your state goal of curbing drilling and fracking in the state. We urge you to act speedily and stand ready to assist. Reform begins with ethical and honest regulation."