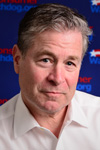 Insurance companies have been forcing the middle class to pay for Auto Insurance discounts given to a select few.
Consumer Watchdog and other leading California non-profit organizations have submitted a formal petition to Insurance Commissioner Dave Jones asking him to stop insurance companies from secretly discriminating against their customers based on their occupation or educational level.
Here's the background:
Auto insurance premiums in California have to be based primarily on a motorist's driving safety record, the number of miles you drive each year, and how many years you've been on the road.  That's one of the mandates of insurance reform Proposition 103, approved by California voters in a David versus Goliath battle with the insurance industry twenty-five years ago.
Insurance companies are allowed to consider other "rating factors"… but only if the company can prove, in a public hearing, that they are "substantially related to risk of loss" and they are put on the "approved optional rating factor" list by the elected Insurance Commissioner. Even then, optional rating factors can never outweigh a person's driving record, annual mileage and years of driving experience on their insurance bill.
It's a system designed to make insurance rates fair, reward good drivers, and eliminate the arbitrary discrimination against the middle class and the poor that was rampant in the 1980s (and continues today, in other states).
Insurance companies are always looking for ways to evade Proposition 103, so it's not too surprising that some companies –Mercury, GEICO, Progressive, 21st Century and the Auto Club of Southern California, to name some of the biggest – have come up with a scheme to evade the law's good driver requirements.  These companies are marketing plans that promise special premium benefits to people who belong to what the insurance industry calls "affinity groups" – college graduates who can afford to maintain memberships in an alumni association, people with high paying jobs like doctors, lawyers, and business executives, and other elite members of the 1%.
Guess who gets penalized under this system? Regular people who work middle class or blue-collar jobs; high school graduates; retired citizens and those on low incomes. Even if they are Good Drivers, they are forced to subsidize the rich, but not necessarily better, drivers who insurance companies prefer to do business with. The surcharges – which are not disclosed on your auto insurance bills – can result in premiums as much as 33% higher for some drivers who are not a member of a company's preferred occupational groups.
These so-called "affinity groups" violate Proposition 103. Unfortunately, the California Department of Insurance, which is responsible for the enforcement of Proposition 103, has permitted a number of insurance companies to market the policies.
The agency's failure to stop these illegal surcharges is even more troubling because a court has ruled that consumers can't challenge a company's illegal rating practices in court once they have been approved by the Commissioner – a decision that itself conflicts with Proposition 103.
The Insurance Commissioner must respond to the Petition within thirty days.
Related Articles
Read the Official Petition to Insurance Commissioner Jones. Here
Read Consumer Watchdog's 1/29/14 Press Release about the Petition. Here
Read a factsheet on the Petition.  Here
View various insurance company filings detailing their use of "affinity groups"  Here
Read a commentary on the issue. Here
Read Consumer Watchdog's October 21, 2013 brief urging an Administrative Law Judge to reject Allstate's request to utilize the illegal "affinity group" rating factors. Here
Read the judge's December 17, 2013 decision permitting Allstate to utilize "affinity groups," and the Insurance Commissioner's order approving it. Here
Read Consumer Watchdog's Request for Reconsideration by the Commissioner: Here
News Coverage
How Affinity Groups effect the price you pay for car insurance, KNBC Los Angeles, January 28, 2014